Here you'll find the answers to your most burning questions
Stonepaper – material & recycling
How is stonepaper made?
The stone paper production process is an invention from Taiwan. Over the past 20 years, a technology was developed to produce paper with less impact on the World than traditional pulp paper. The stone paper now has a Cradle to Cradle silver certificate and the technology is spreading rapidly around the World. We would like to share the basic process of making stone paper.
The stones used for the production of stone paper are calcium carbonate, and come from mines. The color of the stones, is the color that the paper will take on. Therefore, mainly white/yellow-white stones are used.
These stones are ground to dust, then mixed with a little (partly recycled) HDPE. This component functions as 'glue' for the stone minerals. Due to this combination of resources, recycling of the material becomes infinite. The Calcium Carbonate minerals don't lose their form, as opposed to pulp paper fibers that do break after recycling and end up as waste in the end.
The heated mix of HDPE and dust pellets, become a texture comparable to a balloon. This mixture can be stretched out very high, and thus as thin as wished for. At the same time the material cools down and can then be rolled up into paper rolls.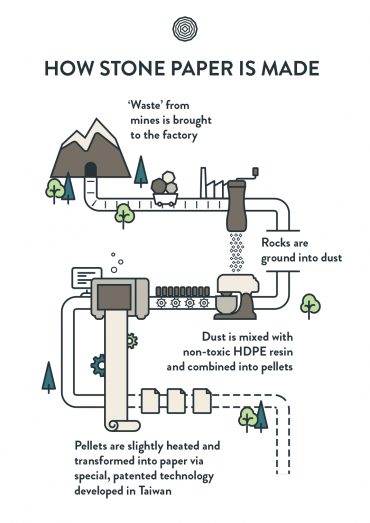 Why is stonepaper more sustainable than pulp paper?
In this chart, you can see the difference in resource usage in production for both stonepaper and virgin – as well as recycled pulp paper.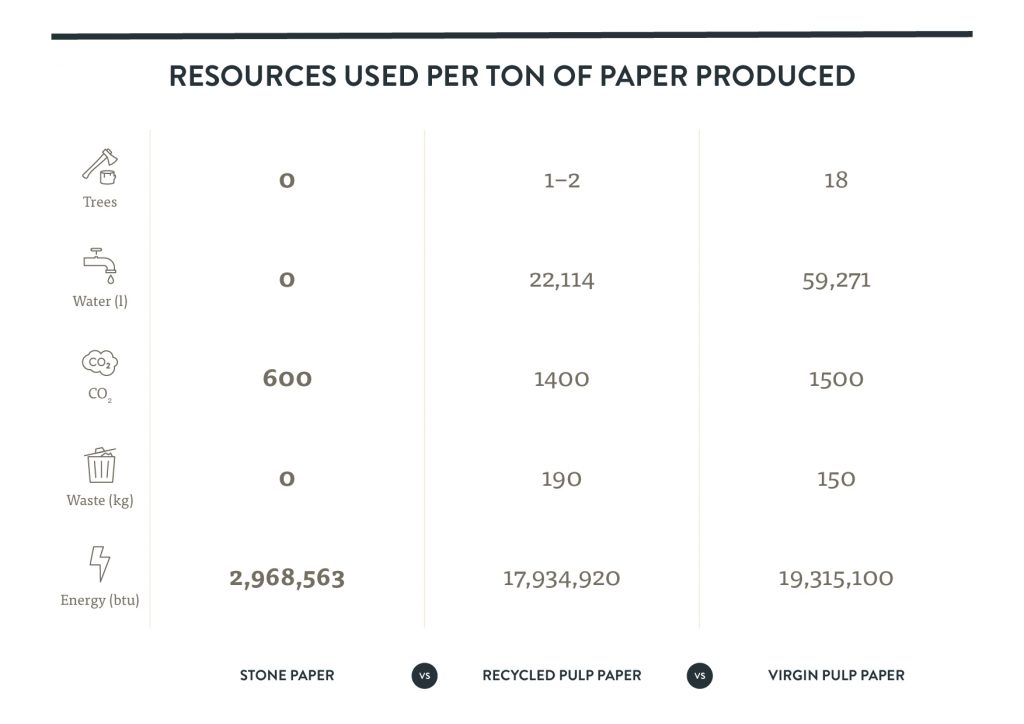 Why did stonepaper receive a cradle to cradle certificate?
The stonepaper we use for our Rockbooks, is  cradle to cradle certified by the official cradle to cradle Institute. The paper has a silver cradle to cradle label. On the right you can see what valuation was given to different aspects of the paper production.
Cradle to cradle literally means there is no 'grave' for the product after it has been used. The material does not need to leave any waste behind after usage, but can be properly recycled.
How to recycle stonepaper and your Rockbook
Our Rockbooks are made from original stonepaper and can thus be recycled easily.
In theory, stonepaper is infinitely recyclable. If there were a stonepaper recycling stream, we would be able to fully re-use all stonepaper. However, in practice this still works a bit different, mainly due to a lack of sufficient volume for an own recycling stream.
We advise you to throw away your Rockbook (if you really want to), with plastic recycling (stream 2). This way, the paper can be fully incorporated in an existing recycling stream. The Calcium Carbonate (the stone that is used) is already a common additive to some plastic products and will thus be properly recycled.
What happens if stonepaper or my Rockbook enters the paper recycling stream?
Stonepaper will be recognized as a non-pulppaper product in most recycling streams that we know of. It will thus be filtered out with other products that are not recyclable in a paper recycling stream. Then, it will be processed according to the facilities rules. Sometimes this means that it will be burned, or that it will be sorted and used in proper plastic recycling. The stonepaper will in fact be recognized as a plastic-type product.
Just to make sure – we recommend you recycle our Rockbooks with plastic recycling.
Will the HDPE in stone paper be replaced with bioplastic?
A lot of research and development is done to continuously improve the sustainability of the stonepaper and its production process.
Test are being done with bioplastic replacing the HDPE component of the stonepaper. This will most likely be a bioplastic variety that is not made from a food resource, but for example from non-consumable weeds.
At this moment, the HDPE component is made from partly recycled plastic.
Where are Rockbooks produced?
Our Rockbooks are produced in the Netherlands. For us, it is very important that we know the ins and outs of the production process. This way, we can keep it as sustainable as possible. We partnered with a Dutch production firm that operates as eco-friendly as possible and also holds an 'eco-printed' certificate.
The paper we currently use for the Rockbooks comes from Taiwan, where stonepaper was invented. The paper is shipped in bulk to Europe. In the near future this paper production will also start to take place in Europe.
What is the carbon footprint of a Rockbook?
For Paper On The Rocks B Corp certification we were required to calculate the CO2 footprint of our Rockbooks. We are very happy with the initial figure – and will continue to reduce this footprint as much as possible.
Hardcover Rockbook: 0,36 kg
Softcover Rockbook: 0,28 kg
When will the collection be expanded?
Thanks for asking! 🙂 Our Classic collection features ruled hardcover and softcover Rockbooks and four softcover Leafbooks. Our Studio collection features three ruled hardcover Marble Rockbooks.
We plan to add further editions to our collection. Via our social media channels and our newsletter we will update you on the newest releases. We're looking forward to release a new collection of very limited editions in the near future…
What happens to damaged Rockbooks?
In printing and production, you will almost always find defective or damaged Rockbooks, unfortunately. We choose not to throw these Rockbooks away. Instead, once or twice a year, we donate these books to educational projects. For example, during Christmas of 2016, we donated the damaged books to a center for language education for refugees in the Netherlands.
Does the production of Rockbooks use renewable energy?
In printing and production, as much renewable energy as possible is used.
Currently the production of stone paper runs on energy provided by solar panels.
The energy used to produce is 85% renewable energy.
Paper on the Rocks – Organisation
Why was Paper on the Rocks founded?
An activistic stationery company that smashes a wasteful industry to pulp and then makes great things out of it – that's us!
Why are we doing this? Well for one, we like a good challenge. Speaking of challenges:
The paper industry is one of the biggest polluters in the world. Grinding down forests and swallowing unimaginable amounts of water. Oh, and don't forget the tons of CO² emissions added to the mix. Needless to say it's in everyone's interests to explore alternatives. Luckily, there are some great ones up for grabs.
We are passionate about anything paper related. Writing, drawing, doodling, colouring… You name it, we love it. Producing paper products designed with an eye for detail, with that elusive book-ish smell, touch and feel – it just tickles us in all the right places. And you wouldn't be here if you didn't have that too…, it takes one to know one. 
To give you the best notebook experience humanly possible we've wrapped up all of the above in one solid solution.
But that's not all. We donate our time, services and at least 5% of your purchases to reforestation efforts and natural reserve protection initiatives.  We don't just 'make' products, we aim to improve an industry.
When was Paper on the Rocks founded?
Paper on the Rocks was founded by Anne Pleun van Eijsden at the end of 2015.
Anne:
"It was always my intention to not start just 'any' company. When I witnessed all the dirty ways in which people produce – and sell – products, I knew we could do better. We HAVE to do better.
I guess I've always been one for stepping out of my comfort zone (what's one of those, anyway?). Going against the stream. I studied history and I specialised in revolutions – the non-violent variety. Having a strong urge for justice, I ended up receiving a Masters' degree in European Union Law. I didn't work even one day in either of those fields, but they helped form me and my beliefs.
Stemming from a family of forthright entrepreneurs it might have been in my DNA to found a company with a strong mission – to change a vested industry.
When I was 12 years old, I desperately wanted to become a writer, to inspire people to keep on dreaming. And I kind of feel like that's what I've ended up doing. Only from a different angle. At Paper on the Rocks, we produce the tools that help people to keep on dreaming, writing, drawing and sharing thoughts."
Can you piece together where the Paper on the Rocks mission came from?
Anne:
"An activistic stationery company that uses business to inspire and implement solutions to protect our forests and nature. I'm living my dream to make the world a better place. What's your story?
Feel free to contact me at anne@paperontherocks.com!"
Where is the company located?
Our office is located in Amersfoort. A centrally located city in the Netherlands not far from Utrecht.
Within our team we speak English, Dutch, French, Spanish, Italian and German!
What are your bank details for a bank transfer?
If you've chosen a bank transfer as a payment option, please include your order number in the details for a swift handling of your order.
Company name: On The Rocks B.V
Bank: Triodos Bank N.V. Zeist
IBAN: NL 04 TRIO 0391024329
BIC: TRIONL2U
If you have any questions regarding your order or the payment, please contact Tessel on tessel@paperontherocks.com.
Didn't find the answer to your question?