Our sustainable stationery to capture your corporate ideas and values

Looking for an end-of-year gift, a sustainable notebook for your team to jot down their great ideas, or a nice give-away for an event? We've got just the book for you. Switch to notebooks made from stone and agriculture waste.
"The University of Amsterdam is very pleased with the UvA Rockbooks! We find them to be a rock-solid corporate gift whenever we are visiting foreign institutions and want to give a thank you present for our welcoming hosts. We always receive a lot of positive feedback, especially commenting on the silky feel of the rockpaper.
The order process was simple and the result was exactly what we had hoped for. It was also particularly nice to work with an UvA study abroad alumnus! We'll definitely return to Paper on the Rocks for our future order."
"Paper on the Rocks made a beautiful and unique notebook made of stone paper for the Amsterdam Essentials Collection from I amsterdam.
Philip actively participated in the ordering process. Meeting the agreed delivery time was important to us and the entire team of Paper on the Rocks made sure the delivery time was met. We look forward to further cooperation!"
"Early 2020 Wavin ordered beautiful Rockbooks, as we completely share Paper on the Rocks' mission towards more sustainable water management, and a conscious world in general.  We particularly appreciated their proactive advice and flexibility in the design process. Wavin will proudly give these Rockbooks away to guests of our Experience Center, because it's a lasting gift with a positive impact!"
"We are very pleased with how our Rockbooks turned out. Sustainability and customization are the default and with Philip's help we've also found a beautiful matching pen (from stone!). This combination makes for a very comfortable writing experience."
What can we do for you?
You are looking for custom and/or corporate notebooks to support your company's work. We understand that you want the best quality product to match your company's standards.
If you are looking for:
• Personal service catered to your needs
• Assistance in creating an appealing design
• Lots of possibilities to create a unique and sustainable product
• A competitive offer, which results in a high-end product that is both good for the world, and great to use…
You've found the right partner in us! Let's dive in.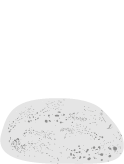 1. Design 
Custom-made notebook with your logo, corporate colors. Our designer will create a sneak peek of your personalized design.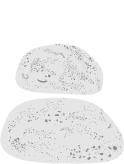 2. Production
Happy with the design! Production starts right after the design approval. It takes about 2-4 weeks.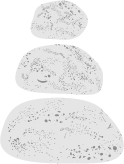 3. Delivery
We will send the notebook to you, clients or colleagues. Delivery takes 2-4 days, outside the Netherlands will take a bit longer
We create unique notebooks for your organization 
By working together, we can save huge amounts of water, CO2, energy, and mature trees.
Over the past years, we have worked with organizations from all over the world to create beautiful and sustainable notebooks.
100.000+
  100+
  15+
Notebooks
produced
  Happy
customers
 countries
Rockbooks
Rockbooks are made from stone paper. This sustainable tree-free paper is made from upcycled stone waste and has a 67% smaller carbon footprint than traditional paper Our stone paper is waterproof, tear-resistant, has a silky feeling, and provides a soft writing experience.  know more
Leafbooks
Leafbooks are made from 100% plant waste. This means that no trees are cut down for the production of this paper. We are reinventing the paper industry! Our plant paper notebook has the same writing experience as a traditional paper, but with 47% less eco footprint.
know more
Request a sample or non-binding quote
Give us some information so the right person can get back to you.
Get in touch
Our Impact Manager Ramon will resolve all your questions.
Email: ramon@paperontherocks.com
Telephone: +31 (0) 6 28272190
You didn't find what you are looking for? Contact us
What are the benefits of Paper on the Rocks notebook?
Don't get us started! There're many reasons to switch to stone paper and leaf paper for beautiful notebooks, we are listing only a few here:
Many trees are saved, as we only work with 100% tree-free paper types

A lot of water is saved, because Rockbooks require no water to produce

Rockbooks are waterproof, which makes them ideal for outside use

Almost no bleach is used for our books: Rockbooks are naturally white and Leafbooks' pages are unbleached

We are a certified B-Corporation, which means that we are "using business as a force for good"

Waste materials are used to create high-quality notebooks: discarded limestone for Rockbooks and agricultural waste that would be burned for Leafbooks

The CO2-footprint of Rockbooks and Leafbooks is much smaller than traditional substitutes
For example: for Paper On The Rocks B Corp certification we were required to calculate the CO2 footprint of our Rockbooks. We are very happy with the initial figure – and will continue to reduce this footprint as much as possible.
Hardcover Rockbook: 0,36 kg
Softcover Rockbook: 0,28 kg
What are the Rockbooks and Leafbooks made of?
Rockbooks are made from stone paper. Literally: paper made from stone. This sustainable tree-free paper-alternative consists of 80% limestone, which is discarded from quarries thus a waste material. It is combined with 20% HDPE (high-density polyethylene), a recycled type-2 plastic. This process results in a 67% lower CO2-footprint in production.
Leafbooks are made from what we call leaf paper. This is exactly similar to traditional paper, but made from 100% agricultural waste. This means that no trees are cut down for the production of this paper. Using a waste material as a source product for high-quality paper makes for a 47% lower total eco-footprint. No bleach is used for the Leafpaper natural pages.
All our notebooks are made in the Netherlands, adhering to the highest environmental and ethical standards. This includes printing with inks based on vegetable oils only, and roofs filled with solar panels.
What kind of customization options are available for corporate Rockbooks and Leafbooks?
We have created an Explainer document, which is available here. It shows exactly what you need to know.
In summary, you can customize the following when ordering custom Rockbooks or leafbooks:
Outside cover in any full-colour design

Inside cover in any black-white design

For hardcover Rockbooks and Leafbooks: the flyleaf (in front & back of the book) 2 sided in any black-white design
1000+ pieces? 
Name and Contact page in any design

Inside pages to include a recurring logo, quote or slogan

Inside pages to feature dotted, completely blank or any other style pages
Can I get a sneak peek of my custom design?
Yes! To give you an impression of what your custom notebook could look like, we're happy to create a mock-up for your brand. Just drop Ramon a line and we will create a mock-up for you as soon as possible. See down below for an example.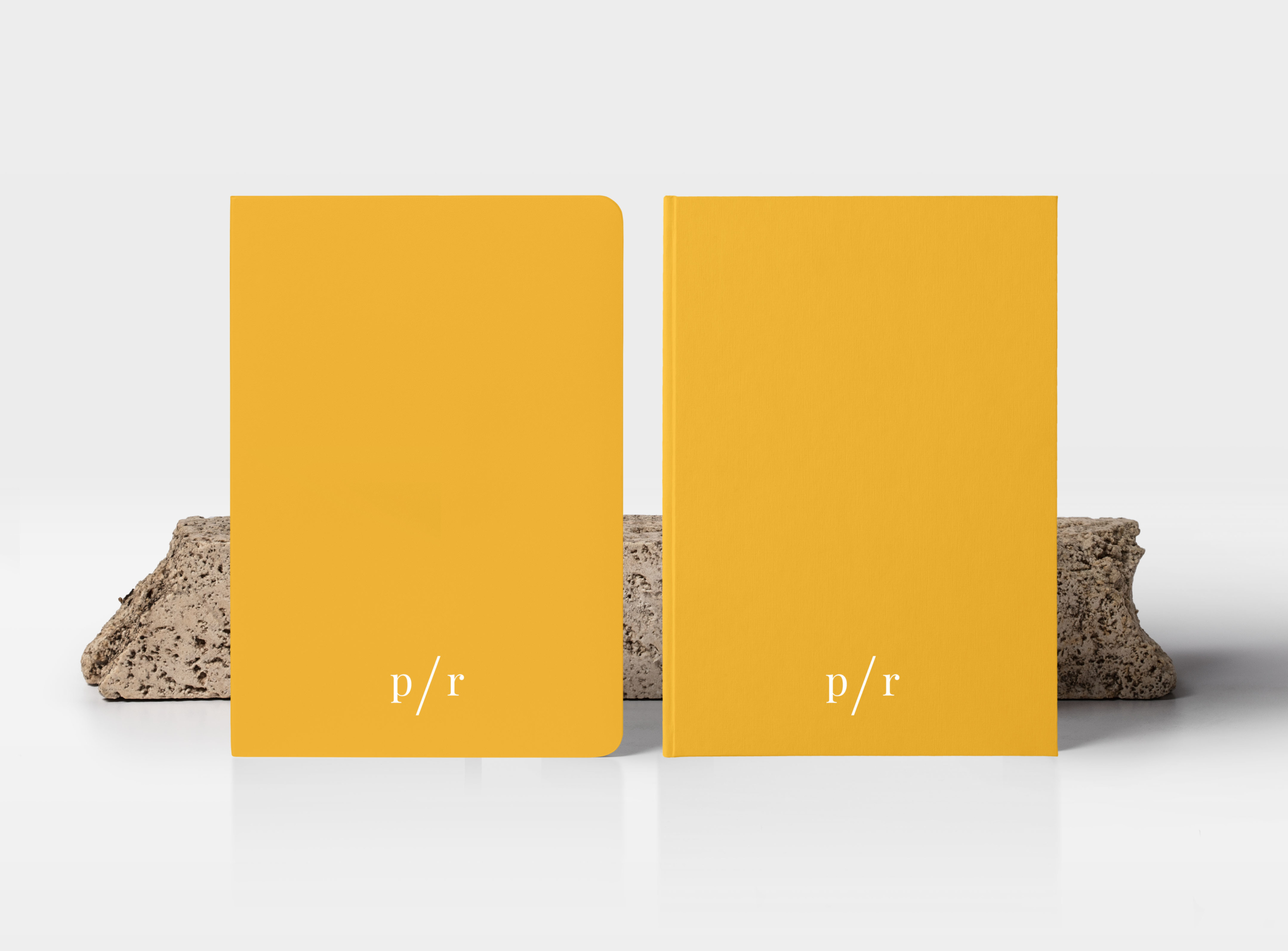 What is the minim order of quantity of custom Rockbooks or Leafbooks?
The minimum order quantity for custom Rockbooks or Leafbooks is 100 pieces. 
You can create any full-colour cover design, or ask us to help you. The inside cover (and flyleaf for hardcovers only) can be designed in black and white. Full colour inside printing attracts a once-off additional fee. An elastic closing band and reading ribbon can be added to hardcovers in many colours.
From 1000 pieces upwards, it's possible to also design the Name/Contact page as you please, and include a recurring logo or message on every page of the book. We are happy to discuss alternative sizes to A5, number of pages and anything else from this quantity as well.
What is the expected time of the order process?
When we receive your approval on the design(s), our production time for softcover Rockbooks or Leafbooks is between 2 and 3 weeks. Hardcover Rockbooks or Leafbooks take a little more work, they are shipped within 3 to 4 weeks. Shipping time depends on your location relative to the Netherlands, where our books are made.
How much valuable resources do I save precisely with Rockbooks or Leafbooks?
We're glad you're asking. Down below you can find the impact per volume of Rockbooks.
| | | | | |
| --- | --- | --- | --- | --- |
| | Water savings | CO2 savings | Energy savings | Tree savings |
| 500 books | 5,33 m3 | 86,13 kg | 1,56 GJ | 1,62 trees |
| 1000 books | 10,66 m3 | 172,26 kg | 3,11 GJ | 3,24 trees |
| 2500 books | 26,64 m3 | 430,65 kg | 7,79 GJ | 8,1 trees |
| 5000 books | 53,28 m3 | 861,3 kg | 15,57 GJ | 16,2 trees |
We know you're probably wondering what these numbers exactly mean. Well, in the case of 2500 books for example… 26,64 m3 water equals 666 showers. 430,65 kg CO2 equals a car ride of 3.845 kilometers. 7,79 GJ equals 279 days of power for an average household. And 8,1 mature trees equals… It couldn't be that surprising, but that equals exactly 8,1 mature trees. 🙂
How would this help me?
Paper on the Rocks wants to show your net positive impact by calculating everything that is saved, ideally compared to any alternative. This information may help you reach (CO2-) reduction targets and to quantify your efforts in preserving precious resources. Please get in touch with Philip to learn more.